SAN JOSE, Costa Rica (AP)—Jeremy Lusk, an American freestyle motocross rider, died of head injuries Tuesday after crashing while trying to land a backflip in competition. He was 24.
Jorge Ramirez, chief of the intensive care unit at Calderon Hospital where Lusk was taken, said the motocross racer suffered severe brain damage and a possible spinal cord injury.
Lusk won a gold medal at the 2008 X Games. He was injured Saturday night when he failed to complete a full rotation while attempting a Hart Attack backflip and slammed headfirst into the dirt. Lusk crashed in almost identical fashion in the freestyle semifinals at the 2007 X Games but was not hurt.
He had a successful 2008 season, winning Freestyle gold at the X Games and silver in Best Trick when he landed the first double-grab Hart Attack backflip. He won a bronze helmet in Freestyle at the Moto X World Championships in his hometown of San Diego.
Ramirez said Lusk died with his parents and his wife, Lauren, at his side.
"He was in a medicine-induced coma as a protective measure, and the medicine was being reduced to see how his body responded," he said. "That didn't mean he was going to wake up. He was in shock and that got worse last night, until he stopped responding and entered into cardiac and respiratory failure."
Lusk lived in Temecula, Calif.
A trust has been set up in his memory, and donations can be made through the Athlete Recovery Fund, www.athleterecoveryfund.com

Current Mood:

sympathetic

Current Music:

"Umbrella" by Rihanna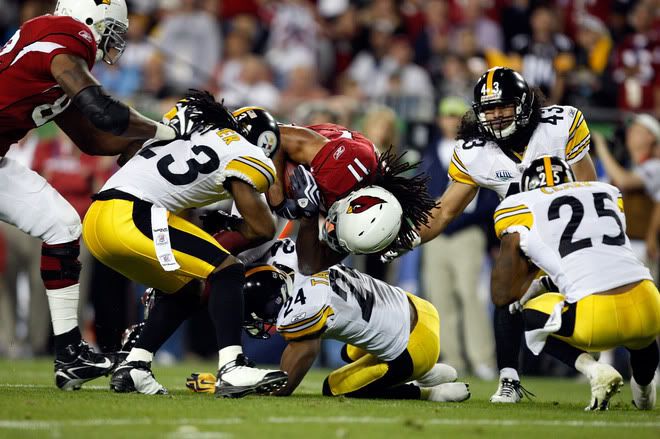 Just got back from the Super Bowl party at Stretch Run. A great game and $15 Miller Lite buckets contributed to a hell of a night, and I definitely don't want to go to work tomorrow.
Current Mood:

high

Current Music:

"Pain" by Three Days Grace
Looks like Kobe still can't win the big one without Shaq.
Current Mood:

blah

Current Music:

"Big Balls" by AC/DC
You Are a Little Negative...


You can be negative from time to time, but you rarely go overboard.

You have a realistic view of the world, and most people appreciate your honest insights.



Like everyone else, you have your darker moods.

But when you're feeling super negative, you keep your feelings to yourself.

Current Mood:

okay

Current Music:

"Life Ain't A Game" by Ja Rule
You Are Balanced - Realist - Powerful


You feel your life is controlled both externally and internally.

You have a good sense of what you can control and what you should let go.

Depending on the situation, you sometimes try to exert more control.

Other times, you accept things for what they are and go with the flow.



You are a realist when it comes to luck.

You don't attribute everything to luck, but you do know some things are random.

You don't beat yourself up when bad things happen to you...

But you do your best to try to make your own luck.



When it comes to who's in charge, it's you.

Life is a kingdom, and you're the grand ruler.

You don't care much about what others think.

But they better care what you think!

Current Mood:

calm

Current Music:

"Lose Yourself" by Eminem
Current Mood:

bored

Current Music:

"Artificial Life" by Save Ferris
Your Punk Band Name Is...
The Intrigued Iron
Current Mood:

cold

Current Music:

"Fat Lip" by Sum 41
Certain cities across the country are taking action against men who
Current Mood:

annoyed

Current Music:

"99 Problems" by Jay-Z
Saw 1408 today. Pretty good movie...a smart horror movie. Definitely go see it.
Current Mood:

pleased

Current Music:

"One Wish" by Ray J
I got this album from Amazon the other day, and I've been listening to it non-stop because it's just so damn good.
Current Mood:

pleased

Current Music:

"Light Speed" by Dr. Dre